Award winning developers of WordPress based projects. Most recently, our project School List It, a ReactJS – WordPress – Watson platform for education has won Top 5 global finalist in 2020 Call For Code. In 2019, we re-launched the Island Free Press, a WordPress newspaper and won multiple-awards from the North Carolina Press Association, and we launched the first ever WordPress plugin designed exclusively for Charter Boats.
Grounded on the Outer Banks
Powered by WordPress
We are a team of WordPress Developers, Designers, Communicators, and Administrators. Each of us is part marketer, creative, and techie. We make cool things happen on the web. Based out of the beautiful Outer Banks of North Carolina, our team enjoys balancing time on the internet with time on the water – ocean, sand, and sound. Four-wheeling on the beach or sailing in the sound in our spare time keeps us grounded in the world around us.
WordPress powers over 36% of the internet, and everything we do. That means we work efficiently and try not to reinvent the wheel. Using WordPress as a framework for websites and web applications means we can focus on targeted functionality and results.
Our Latest Projects
School List It
Pulled together by a concerned group of parents and educators during the covid-19 crisis, School List It is a social media site for parents, teachers, and students and integrates what is due and when. We think its really impressive and just the beginning of a new open source revolution in education tech.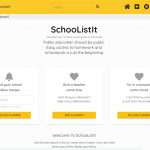 Think of School List It as the bulletin board in the town square where anyone can post and everyone can benefit. It is a detailed school list of what is due and when for any school anywhere. No matter how you school.
School List It is a platform integrating the latest in open source technology for the web: ReactJS, WordPress, and IBM's Watson. Built to scale on the IBM Cloud, School List It is education at light speed.
Charter Boat Booking System
Recently, we worked together with an experienced captain to build a laser targeted charter boat booking system for fishing guides and sailing charter captains. After some research we realized that this was an area with unique needs and no open source solution.
Fishing guides and sailing captains have unique considerations including the weather, sunset, and sunrise. We've built a tailor-made, open source booking solution for them.
Passionate about Open Source
Not only passionate about WordPress, but we are passionate about open source and what that can mean for the speed of iteration. Open source celebrates the principles of collaboration and rapid prototyping. We use the principles of open source to guide our team's culture and core values. Everyone gets a seat at the table and that means faster better solutions to common problems.
Efficiency as a core value
"Don't Repeat Yourself" is a software development best practice that states that duplication in logic should be eliminated via abstraction; duplication in process should be eliminated via automation. For us, "Don't Repeat Yourself" is a core strategy going well beyond the way we write code and carrying over into the way we behave, communicate, and consider.
Doing our part – Five for the Future
Each of us contribute to the WordPress community and our local community. Here in Hatteras, we bake sweet and fancy desserts for our community dinners and teach kids to sail and surf. As part of WordPress's global marketing team, we help tell the world just how cool WordPress really is.
Custom Projects
If you have a problem to solve, or a cool product or service to sell, we'd love to help. Please do be specific. If your project appears to be a good fit for our team, someone from our team will reach out and set up a time to discuss your needs.